This page tries to summarize briefly how Pauline came to understand that subconscious messages are hiding behind the symptoms or premenstrual syndrome in women.
It is well known to most people when we're facing a difficult situation, we do not always see clearly, whether in our love life, at work or in connection with our unresolved past, we all have a corner of darkness that will become enlightened if we allow ourselves to be guided by someone else, more objective and prone to a certain neutrality.
PMS does not differ. When I offer to women to make some introspection and I help them understand what can hide behind their suffering, how much of their lives, of their unresolved past wants to resurface and open up to consciousness. From the moment they make the outstanding connection between the hidden message and their reality, a healing follows. For some it is overnight, for others from one month to the next.
Certainly, all the women I have helped had a very intimate story hiding behind their suffering.
I invite you to discover and undertake that path, for it is still the best way to heal.
---
Books and Tapes
MY BEAUTY & MY BEAST – Mind, Body and PMS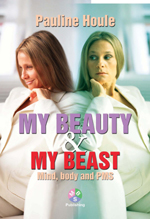 This book proposes a new approach to women suffering from PMS or any related symptoms. Women have taken for granted way too long that it was normal to suffer in that time of the month. Some very precise exercises will help every woman understand the hidden messages that her pains are trying to convey from the subconscious and will be better equipped to transform these pains into a winning discovery towards a profound healing.
Menopause is also looked at from a holistic point of view. Men will also read about themselves and gain a better understanding of what is really going on in those difficult moments and better accompany the woman of their heart.
The results of three surveys are included in this book.
This book is available in French through this website.
N.B. If you are a bookstore, please contact info@paulinehoule.com
---

A companion to the book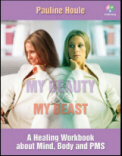 My Beauty & My Beast – Mind, Body and PMS called: A Healing Workbook about Mind, Body and PMS
Also AVAILABLE ON THIS SITE.